A research project on international mobility from tropical African countries to Turkey
Migration from Sub-Saharan Africa to Turkey and Mediterranean Basin.
Song and dance video clip.
The musicians were at that time members of the Doundoun African ensemble directed by Engin Bülbül. Ayhan Çetiner directed and edited the video. Mahir Şaul and Claudia Bülbül served as producers.
The song and dance scenes were filmed at the Beyaz  Köşk beach in Kilyos, on the Black Sea coast of Istanbul; spontaneous documentary scenes from African migrant life in the Beyazıt and Galatasaray neighborhoods of Istanbul are also included.
The lyrics of the song are in the Malinke dialect of the Manding langauge (Guinea) and were transcribed and translated by Mahir Şaul with the expert advice of Dr. Mamadou Lamine Sanogo of the Centre National de la Recherche Scientifique et Technologique of Burkina Faso (Ouagadougou).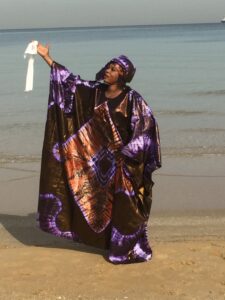 This video features Aminata Bangoura from Guinea as singer
Aminata Mbaye and Awa Diagne (both from Senegal) as dancers
The musical instruments were played by
Fodé Camara (balafon) from Ginea
Kanyoura Dioubaté (jembe drum) from Guinea
Saliou Séné (dundun drum) from Senegal
Mohammed Ali Diallo (kora) from Mali
Erick Boy-Kabeya (jembe drum) from D. R. Congo.
African migrants, like all international migrants,
are diverse in terms of cultural background, social class, education level,
and income either before or after the migration experience.
Mahir Şaul, Professor
List of sub-Saharan African countries
1.Angola                                   
2.Benin                                     
3.Botswana                              
4.Burkina Faso                       
5.Burundi                                
6.Cameroon                           
7.Cape Verde                         
8.Central African Republic  
9.Chad                                     
10.Comoros                            
11.Congo (Brazzaville)         
12.Congo (Democratic Republic)       
13.Côte d'Ivoire
14.Djibouti                                        
15.Equatorial Guinea          
16.Eritrea                               
17.Ethiopia                                                                             
18.Gabon                                
19.The Gambia                      
20.Ghana                                 
21.Guinea                                                                                      
22.Guinea-Bissau                   
23.Kenya                                  
24.Lesotho                               
25.Liberia                                 
26.Madagascar                      
27.Malawi                               
28.Mali                                    
29.Mauritania                        
30.Mauritius                           
31.Mozambique                      
32.Namibia                              
33.Niger                                   
34.Nigeria                                
35.Rwanda                               
36.São Tomé and Príncipe        
37.Senegal                                
38.Seychelles                            
39.Sierra Leone                          
40.Somalia                                
41.South Africa                          
42.Sudan                                    
43. South Sudan               
44. Eswatini                            
45.Tanzania                               
46.Togo                                                                                           
47.Uganda                                 
48.Western Sahara            
49.Zambia                           
50.Zimbabwe                     
Would you like to speak to one of our African migrants advisers over the phone? Just submit your details and we'll be in touch shortly. You can also email us if you would prefer.
For Businesses: Do you have questions about our research project? Send us an email and we'll get in touch shortly, between 08:30 and 19:00 Monday to Friday — we would be delighted to speak.
Note: Your details are kept strictly confidential as per our Privacy Policy.
A research project on international mobility from tropical African countries to Turkey.